RESEARCH ON THE RELATIONSHIP BETWEEN SHEPHERD LEADERSHIP AND ORGANIZATIONAL COMMITMENT OF NON-PROFIT ORGANIZATIONS
Shepherd leadership, non-profit organizations, employees, organizational commitment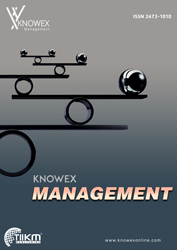 Downloads
This study uses the Bible to compare the shepherds with the shepherds to lead believers. It is hoped that the key elements of non-profit organization leadership can be identified from the shepherd leadership theory in order to motivate employees and increase their commitment to the organization. This study adopted a questionnaire, sent out questionnaires for the staff attached to the Catholic Diocese of Taichung eight special education institutions, valid questionnaires were 218 copies, with correlation analysis, back return analysis to explore various relationships between variables. The results of the study found that: ( 1 ) "The behavior of letting subordinates identify" in shepherd leadership can predict the "employee loyalty" of organizational commitment. ( 2 ) "Sense of mission" in shepherd leadership can predict "employee loyalty" promised by the organization. ( 3 ) The "behavior of subordinates", "mission", and "fairness" led by shepherds can simultaneously predict the "loyalty of employees" promised by the organization. This research provides recommendations for non-profit organization leaders and future research based on the findings.
Chang, M.-C. ., Wu, B.-L. ., Chang, C.-Y. ., & Hong, F.-Y. . (2021). RESEARCH ON THE RELATIONSHIP BETWEEN SHEPHERD LEADERSHIP AND ORGANIZATIONAL COMMITMENT OF NON-PROFIT ORGANIZATIONS. KnowEx Management, 1(01), 1–10. https://doi.org/10.17501/26731010.2021.1101
Adams, A.W (2013). Shepherd leadership of Church of God pastors and how this relates to ministerial effectiveness (Doctoral dissertation, University of Phoenix).
Bass, B.M, & Bass Bernard, M. (1985). Leadership and performance beyond expectations.
Batson, C.D (1990). Self-report ratings of empathic emotion. In N. Eisenberg & J. Strayer (Eds.), Empathy and its development (pp. 356--360). New York: Cambridge University Press.
Bible: John 10: 11-18.
Bible: Matthew 25:40
Batson, C.D (2008). Empathy-induced altruism motivation. Paper presented at the inaugural Herzliya symposium on `` pro-social motives, emotions and behavior '', Herzliya, Israel.
Bernard, G. (2010). The Shepherd, the Gate, and the Sheep. HUMAN BEHAVIOR, DEVELOPMENT and SOCIETY, 5 (1), 21-28.
Brown, the ME, the Trevi n- . O, LK, & Harrison, the DA (2005) Ethical withleadership: A Perspective for Learning social Construct Development and Testing Human & Organizational Behavior Decision Processes, 97 (2), 117-134.
Cozman , FG, Cohen, I., & Cirelo , MC (2003). Semi-supervised learning of mixture models. In Proceedings of the 20th International Conference on Machine Learning (ICML-03), 99-106.
Davis, MH (1983). Measuring individual differences in empathy: Evidence for a multidimensional approach. Journal of Personality and Social Psychology, 44 (1), 113.
Dietz, J., & Kleinlogel, EP (2014). Wage cuts and managers' empathy: How a positive emotion can contribute to positive organizational ethics in difficult times. Journal of Business Ethics, 119 (4), 461–472.
Dhammika, KAS (2014). Visionary Leadership and Organizational Citizenship Behavior: An Assessment of Impact of Sectarian Difference. In Proceedings of the First Middle East Conference on Global Business, Economics, Finance and Banking. (ME14 DUBAI Conference) Dubai, 10 -12.
Guo Dongsheng, Jiang Yu goods, Xi Chen Bin (2018) -, executive leadership style, research associate of emotional intelligence and organizational commitment, management science research 12 ( 1 ), 53-60 .
Gunter, NH (2018). The shepherd-leader motif as a pastoral model for a globalizing church. Perichoresis, 16 (3), 87-105.
George, JM, & Jones, GR (2005). Understanding and managing organizational behavior. Prentice Hall.
Jaskyte , K. (2004). Transformational leadership, organizational culture, and innovativeness in nonprofit organizations. Nonprofit Management and Leadership, 15 (2), 153-168.
Liu Tingyang and Xu Qini ( 2013 ) from the perspective of transformational guidance -discussing shepherd guidance, servant guidance and moral guidance, Journal of Taipei College of Maritime Technology. 2013, 6(1), 96-111.
Lee, AYP, Wang, YH, Chen, IH, & Yeh, YT (2019). Calling and Organizational Commitment: A Moderated Mediation Model of Career Commitment and Person-Organization Fit. Journal of Management , 36 (4), 369-389.
Lin, SHJ, Ma, J., & Johnson, RE (2016). When ethical leader behavior breaks bad: How ethical leader behavior can turn abusive via ego depletion and moral licensing. Journal of Applied Psychology, 101 (6), 815.
Meyer, JP, Paunonen , SV, Gellatly , IR, Goffin , RD, & Jackson, DN (1989)," Organizational Commitment and job performance: It's the nature of the commitment that counts, "Journal of Applied Psychology, 74, 152-156. doi :10.1037 // 0021-9010.74.1.152
Mathieu, JE, & Zajac, DM (1990). A review and meta-analysis of the antecedents, correlates, and
consequences of organizational commitment. Psychological bulletin, 108 (2), 171.
Meyer, JP, & Allen, NJ (1991). A three-component conceptualization of organizational commitment. Human resource management review, 1 (1), 61-89.
McAllister, DJ (1995). Affect- and cognition-based trust as foundations for interpersonal cooperation in organizations. Academy of Management Journal, 38 (1), 24-59.
Meyer, JP, & Allen, NJ (1997). Commitment in the workplace: Theory, research, and application. Thousand Oaks, CA: Sage.
McCormick, B., & Davenport, D. (2003). Shepherd leadership: Wisdom for leaders from Psalm 23. John Wiley & Sons.
Methot , JR, Lepine , JA, Podsakoff, NP, & Christian, JS (2015). Are workplace friendships a mixed blessing? Exploring tradeoffs of multiplex relationships and their associations with job performance. Personnel Psychology, 69 (2), 311– 355 .
Ng, TWH, & Lucianetti , L. (2015). Within-individual increases in innovative behavior and creative, persuasion, and change self-efficacy over time: a social – cognitive theory perspective. Journal of Applied Psychology , Vol 101 (1) , Jan 2016, 14-34.
O'brien , RM (2007). Quality & Quantity. A caution regarding rules of thumb for variance inflation factors, 41 (5), 673-690.
Patterson, MG, West, MA, Shackleton, VJ, Dawson, JF, Lawthom , R., & Maitlis , S., et al. (2005). Validating the organizational climate measure: links to managerial practices, productivity and innovation. Journal of Organizational Behavior, 26 (4), 379-408.
Page, D., & Wong, TP (2000). A conceptual framework for measuring servant leadership. The human factor in shaping the course of history and development, 69-110.
Randall, DM (1990), "The consequences of organizational commitment:Methodological Investigation, "Journal of Organizational Behavior, 11, pp. 361-378.doi : 10.1002 / job.4030110504
Robbins, SP, & Judge, TA (2001). Organizational behavior, 14 / E. E: Pearson Education India.
Saal, FE, & Knight, PA (1988). Industrial / organizational psychology: Science and practice, Pacific Grove, CA: Brooks.
Tian, Q., & Robertson, J. (2017). How and When Does Perceived CSR Affect Employees' Engagement
in Voluntary Pro-Environmental Behavior? Journal of usiness Ethics. DOI 10.1007 / s10551-017-3497-3. ( SSCI , Q1 )
Walumbwa, FO, Orwa , B., Wang, P., & Lawler, JJ (2005). Transformational leadership, organizational commitment, and job satisfaction: A comparative study of Kenyan and US financial firms. Human resource development quarterly, 16 (2 ), 235-256.
Wu Bingen (1990). Proceedings of the Second Management Education Symposium of the Republic of China .
Yukl, G. (1989), "Managerial Leadership: A Review of Theory and Research," Journal of Management, 15, 251-289. doi : 10.1177 / 014920638901500207
Zhang, J., Liu, LA, & Liu, W. (2015). Trust and deception in negotiation: culturally divergent effects. Management & Organization Review, 11 (1), 123-144.
Status of Free Join Christianity ( 2019 ) from of The Center for Study of The Gordon-Free Join Christianity of the Conwell Theological Seminary .