SMALL -SCALE PADDY FARMING AND ITS CHALLNGES WITH SPECIAL REFERENCE TO THE HINGULA GN DIVISION, MAWANELLA, SRI LANKA
socio-economic, small-scale, agrarian, livelihood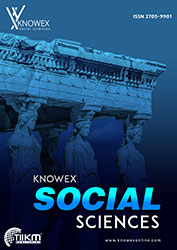 Downloads
License
Copyright (c) 2022 Moreen R, Sifan MSM , Handapangoda HMAK
This work is licensed under a Creative Commons Attribution 4.0 International License.
Rice cultivation is an essential source of livelihood and food security, especially for those living in rice-growing countries. This study focused on the challenges of rural, small paddy farmers in Mawanlla, Sri Lanka.   The main objective of this research is, to understand small-scale paddy farmers' social and economic related challenges and attempt to propose recommendations.  Using interview methods and direct observation, this research was conducted in the Hingula GN division, Mawanella DSD, Kegalle district, Sri Lanka. This study used 25 farmers in the Hingula GN division selected through the purposive sampling technique for the interview. In addition, this study collected information from a few stakeholders like Grama Niladhari, agricultural research and production officer, and leader of farmer organization. This study findings reveal that small-scale paddy farmers faced many challenges in paddy cultivation. There is a lack of labour, problems of wild animals (rats, wild boars), water scarcity, heavy rain, and climate change, lack of machinery, low marketing opportunity, low output, and poverty.  This field-based study finds that young people's involvement in paddy cultivation is less in Mawanella for various reasons. In addition, they are not highly oriented towards marketing purposes, mainly they cultivate for themselves and, if only cultivation is high, markets. Finally, this study concludes that institutional support to these small-scale paddy farmers is compulsory to reduce their problems. GO, NGOs and CBOs should play a prominent role in facilitating the small-scale farmer's issues. In addition, there should be an organized bond among small paddy farmers and government officials.
Moreen, R., Sifan, M. ., & Handapangoda, H. . (2022). SMALL -SCALE PADDY FARMING AND ITS CHALLNGES WITH SPECIAL REFERENCE TO THE HINGULA GN DIVISION, MAWANELLA, SRI LANKA. KnowEx Social Sciences, 2(01), 20–29. https://doi.org/10.17501/27059901.2021.2102
(1982). Agricultural Administration At the Village level In Asia. Japan: Asian Productivity Organization.
Bansil, P. P. (1971). Ceylon Agriculture-A Perspective. New Delhi: Dhanpat Rai & sons.
Gunasena, H.P.M., & Herath, H.M.G. (1984). Proceedings of scientific agricultural manpower in Asia. Sri Lanka:
Saman Hadharagama, Susantha Rasanayake. (2011). Development Sociology. Baththaramulla: Sameera publication.
Paroda, R.S., Terence Woodhead, & Singh, R.B. (1993). Sustainability of Rice-wheat production systems in Asia. New Delhi: Oxford & IBH Publishing Co.Pvt.Ltd.
Veenhuizen, R. V. (2006). Cities Farming for Green and Productive Cities. Philipines: International Institute of Rural Reconstruction and ETF Urban Agriculture.